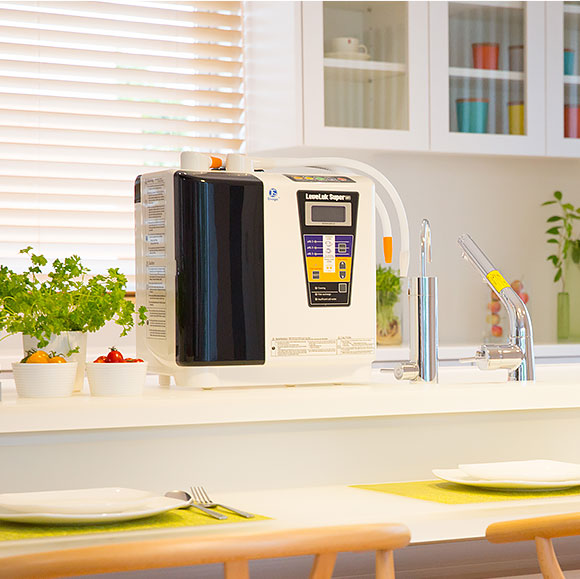 (WorldFrontNews Editorial):- Thanh Pho Ho Chi Minh, Jul 6, 2020 (Issuewire.com) – Vitamia Natural Health Solutions CO. LTD selling Kangen water filter, a product from Japan is proving the best purifying features to keep you and your family healthy. The mission at Vitamia is to give their customers the best device for a healthy lifestyle. A Kangen machine does not only filter and purify tap water but also utilizes electrolysis technology to produce ionized alkaline and acidic water.
The secret to a happy and healthy life constitutes supply to nutritious food and water. The water purifier device range available at Vitamia provides some of the best alkaline ionized water filters manufactured in japan. These devices convert contaminated or dirty tap water into alkaline-based water which is cleaner and rich in hydrogen and also contains various health and anti-aging benefits.
A Kangen water machine is also known as an ionized alkaline water purifier that apart from filtration also helps remove dirt and toxic elements.
More on World Front News Stories:
There are many other benefits of drinking and using alkaline water.
Alkaline water is more hydrating than basic tap water and is beneficial to people that are very athletic or who work outside doing laborious jobs.
Alkaline water can help boost immunity and reverse the acidic effects of a poor diet.
Alkaline water has an increased amount of healthy minerals such as magnesium and calcium. Because of this, alkaline water can be good for healthy bones.
Alkaline water contains antioxidants that prevent the growth of free radicals in the body that rush the aging process.
Alkaline water helps neutralize the acidity in your body and improves your digestion. 
The device is also capable of electrolyzing water with the help of a Titanium electrolytic plated coated with Platinum. The pH level of the filtered water rages between 2.5to 11.5 and is extremely rich in hydrogen, mineral ions, micro water molecules, antioxidants, and more thus providing the best drinkable water for everyone.
The machine comes with many functional advantages and has also been proven to be the ideal filtration system alongside the treatments of various chronic diseases. The device can also help our bodies to expel ad eliminate harmful toxins.
The Kangen water purifier range is rich in hydrogen, alkalinity, beneficial mineral ions, and micro-molecular water that sets it apart from any other ordinary water purifier.
Vitamia sells Kangen water purifiers in various models and specifications, each providing the functional benefits of drinking, beauty, cooking, and cleaning. Depending on the alkalinity of the water, Kangen purified water can be categorized into various types each having specific functional goals in making your life healthier.
Here is a quick explanation of each water type:
Strong Kangen Water
With a pH level of 11, the "strong Kangen water" is not for drinking. This water type is used for cleaning and food preparation. It can also be used for stain removal and dishwashing.
Kangen Water
With a pH of 8.5 – 9.5, "Kangen Water" is perfect for drinking and cooking. This hydrogen-rich water can restore the body to a more alkaline state. You can use this water type for drinking, food prep, making drinks, and watering plants.
Clean Water
The "clean water" setting provides purified water without the extra pH boost. This is neutral fresh drinking water which is great for taking medication or for preparing baby food.
Beauty Water
Lower pH water, in the 4-6 range, has astringent effects that are great for gentle cleaning and beauty care. You can use this water type to wash your face or for washing pets. It's also great for washing your hair.
Strong Acidic Water 
You might wonder why anyone would want access to "strong acidic water." With a pH of 2.7, this water type is not for drinking. It does have strong cleansing properties which make it great for washing utensils and cleaning countertops. It can reduce germs in your home or in a commercial setting. 
Water is intrinsic to our lives and Vitamia has commercially allowed the sale of Kangen water purifiers at affordable rates so that you do not need to worry about contaminated water. They ensure maximum use and durability of the device and various units are often replaced or serviced as per the guidelines of the original manufacturer of the machine.
Although Vitamia also sells products from other brands, Kangen stands out with its characteristics and benefits that are indispensable in leading a life of healthy practices. Because of such an extensive pH range, filtered water from the device can be ideally utilized in every functional space of our daily lives. Water-borne diseases or issues due to contamination and the presence of toxins in our body lead to severe health compromises but with Kangen, you can now lead a safe and healthy life.
Visit Vitamia's official website at https://vitamia.com.vn/ for more devices and purchasing information.
Phone: +84965051188
Address: 151 Ben Van Don, Ward 6, District 4, Ho Chi Minh City, Vietnam
Email: [email protected]
Facebook: https://www.facebook.com/vitamia.vn
Twitter: https://twitter.com/Vitamia_vn
Youtube 
Media Contact
SEO Mũ Cối
+84936399668
6th floor, SanNam Building, 78 Duy Tan Street, Dich Vong Hau Ward, Cau Giay District, Hanoi City, Vietnam