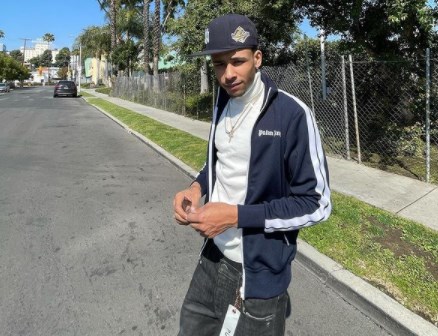 Massachusetts-based versatile rapper KellzDa Cheefa has released his latest banger 'Kick Doors' to offer everyone. It is enriched with the hustle and catchy wordplay.
(WorldFrontNews Editorial):- Massachusetts, United States Jun 23, 2021 (Issuewire.com) – Upcoming rapper and songwriter KellzDa Cheefa is creating a huge buzz with the latest premiere of the single 'Kick Doors'. The banger is finely calibrated and deftly produced with intricate details and fine artsy. Starting off slowly, the bass-heavy beats charge the up soundscape as the rapper progresses with his wordplay. Clever wordplay and a striving honest attitude can be felt through the artists' unapologetic approach. Weaved with weight and gritty, the banger carries enough potential to engage all kinds of listeners around the globe, whether a hip-hop enthusiast or not.
The latest banger 'Kick Doors' has also been released with an official music video that masterfully captured and represents the unwavering personality of the artist. Hailing from Massachusetts, this artist is 25 years old and roaming at the epitome of the music industry. In the video, he could be seen performing in the urban sites and streets while establishing the subject matter of gangster hood. It is produced by Yianni while shooting and edit is taken care of by deniedjoe. They have done a great job and as a result, the video provides great visual support to the track and lets the audience enjoy the banger even more. Featuring the artist's eclecticism and perfect control over rhythmic and lyrical flow, this banger is not gathering attention from the listeners but also from fellow rappers and emerging artists in the industry. Inspiring and full of energy, the single makes everyone bop their head instantly and get into the groove.
More on World Front News Stories:
Throughout his musical journey, the rapper has provides many musical hits to the listeners like, 'Tensed Up', 'Starter Kit', 'Trap Star', etc many solo projects. However, this independent artist has also made some collaboration projects which proved their worth. He paired up with Jah40 for the video 'STEPPER' and with Lil Boogz for 'Valentino'. Tye2x is his long-time collaborator with whom he made videos like, 'Jet Ski', 'Love', 'WAR', 'Pressure', etc many others. With such amazing bangers, the artist is looking forward to carrying his legacy by creating more. To listen to the latest video and to get more updates, follow KellzDa Cheefa on YouTube and Instagram.
To enjoy the music video 'Kick Doors', check out the given below link: 
Media Contact
Music Promotion Club
Source :KellzDa Cheefa
This article was originally published by IssueWire. Read the original article here.