(WorldFrontNews Editorial):- Madrid, Spain May 30, 2023 (Issuewire.com) – SPANISH BEAUTY BRAND THE LAB ROOM COLLABORATES WITH WES ANDERSON "ASTEROID CITY"
Wes Anderson, ASTEROID CITY premiered this week in the Cannes Film Festival and revealed his new and awaited movie with a star studded cast. In the movie we can see a wonderful retro look, hair & make up inspired on the 50s and a wonderful story told in his usual language.
 The Lab Room partnered with WES ANDERSON Asteroid City, preparing a Beauty Bag customized for all the star cast: including Jason Schwartzman, Scarlett Johansson, Maya Hawke, Rupert Friend, Tom Hanks, Mat Dillon, Bryan Cranston, Adrien Brody, Jeffrey Wright, Tilda Swinton, Margot Robbie and many more.
More on World Front News Stories:
The movie was shot in Spain and they choose the Parador de Chinchón where all the room amenities had The Lab Room Red Pomegranate signature collection.
In the press conference Anderson talked about his love for Spain and the wonderful experience of shooting there. He wanted a Spanish brand to partner with the movie and he choose THE LAB ROOM.
"It´s been an amazing experience being able to design a beauty routine for each actor in this movie according to his type of skin and hair." The Lab Room founder Monica Ceño declares. "Our products seemed an obvious option, as they are natural and luxurious products. Our beauty line is based on oils, balms and creams with rich textures which made them perfect for the actors as the set mimicking the desert and the long hours of makeup and hairdressing required highly moisturizing products".
WONDERBALM, NOURISHING CREAM BULGARIAN ROSE, APRICOT LIP BALM, BOTANICAL EYE CONTOUR, SENSITIVE SKIN SERUM, DELUXE FACIAL CLEANSER LUXURY HAIR SERUM COCUNUT & CHIA, CEDAR HAIR MASK
Among the products chosen for the stars were multi-awarded products: Sensitive Skin Serum, Beauty Boost Serum, Wonderbalm and the amazing Deluxe Body Cream Rose Figuier and Body Scrub with ginger and lemongrass that were included in Scarlett Johansson, Maya Hawke, Margot Robbie and Tilda Swinton beauty bags. For the male actors, Tom Hanks, Rupert Friend, Jason Schwartzman, Jeffrey Wright, Adrien Brody or Matt Dillon our Botanical Eye Contour and our Beauty Boost Serum were a must!
WHAT THE CREW SAID:
"I love the products. Love the textures and aromatherapy aspect of your lovely products" Julie Dartnell/ Oscar Winner Make up & Hair Artist
"Your products were to die for and popular on all our cast" Claire Burgess / Make Up artist
"Tilda Swinton loved your beauty balm, she loved the texture and fragrance and your Cedar Hair Mask and Luxury Hair Oil made wonders on all the stars hair" Manolo Garcia / Hair Stylist
"I love the sensitive skin serum which I use in myself and completely love" Claire Matthews / Make up Artist
"Wonderbalm is been a skin saviour for our cast and crew on our 50s period film in chinchon" Inma Azorin /Hair & Make up
ABOUT THE LAB ROOM
"The Lab Room Beauty Collection" unites the ancient cosmetic and perfumery tradition of the ancient worlds and immerses us in a journey through the five senses, turning your beauty routine into a ritual. Natural and pure products, designed to satisfy and solve beauty needs with multifunctional products. Based on aromatherapy and botanical extracts, Spanish Mediterranean "joie de vivre", in an elegant and slightly retro packaging. Textures, fragrances and sensations are basic in the philosophy of the collection. The freshness of the Mediterranean envelops us with notes of citrus, fig trees and the smell of orange blossom in the fields…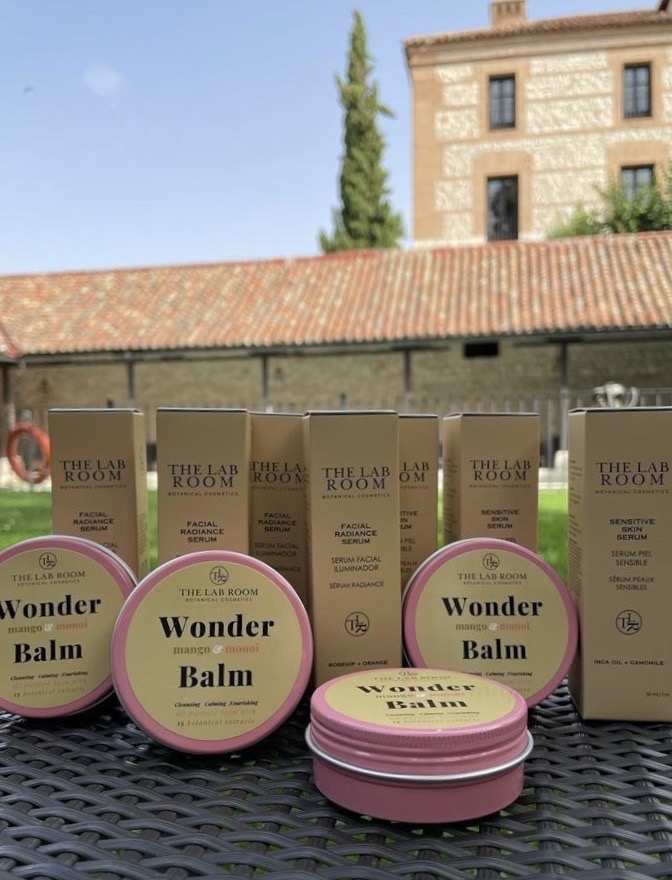 Media Contact
the lab room