Leawo has unveiled a new sales campaign for 2023 Father's Day that offers an AI Photo Enhancer freebie, Leawo All-in-1 Bundle with up to 70% off, Ultimate Blu-ray Toolkit with up to 60% off, and more offers with up to 90% discount.
(WorldFrontNews Editorial):- Shenzhen, Guangdong Jun 14, 2023 (Issuewire.com) – It's not flesh and blood, but the heart which makes people fathers and sons. As Father's Day is approaching soon, Leawo has freshly kicked off the 2023 Father's Day Giveaway & Specials activity, which is live until July 15, 2023. Participants can get an AI Photo Enhancer bonus and money off discounts/coupons for deals. This promotion includes CleverGet All-In-One 10 with up to 90% off, Leawo All-in-1 Bundle with discounts of up to 70%, Ultimate Blu-ray Toolkit with up to 60% off, and other products with clearance prices.
* 2023 Father's Day Bonus: Leawo AI Photo Enhancer
More on World Front News Stories:
Leawo AI Photo Enhancer is a powerful module built-in PhotoIns (that is a 3-in-1 solution package and also includes Photo BG Remover and Photo Enlarger). It enables users to fix exposure or compression issues, create beautiful skies, remove haziness, and beautify portrait photos. Meanwhile, Leawo AI Photo Enhancer can automatically improve photos' quality in a batch instantly with only a few clicks, including optimizing brightness, contrast, saturation, and other details. Besides, it supports processing RAW files.
Follow the steps below to get this freebie on the activity page:
*Fill in the blank with the required information (name and email).
*Click the "Get it Now" button.
*Copy and paste the received registration code (which could be checked in the email box) on the PhotoIns activation center to activate the AI Photo Enhancer module.
2023 Father's Day Unique Keepsake: 
As a 24-in-1 online video downloader toolkit, CleverGet All-In-One 10 supports downloading online movies, TV shows, and live streams from 1000+ websites, including YouTube, Twitter, Netflix, Amazon, Hulu, HBO, Apple TV Plus, Disney+, Paramount+, etc. It can process multiple download tasks in batches so that users can download TV series of all/certain seasons with an inherent browser. Furthermore, it allows users to download 8K video and 320 KBPS audio without quality loss. It could also download online videos to many available popular formats like MP4, MKV, and WebM. The original price of such a comprehensive toolkit for a lifetime version is $2178.80, but now it is available for $209.95 only. Participants can receive huge markdowns for up to 90% off.
2023 Father's Day Heartwarming Gift:
Leawo All-in-1 Bundle — 70% OFF 1-Stop Multimedia Solutions
Leawo All-in-1 Bundle is a 29-in-1 package covering all 4K Blu-ray/Blu-ray/DVD/video/photo/audio solution tools. It includes Prof. Media 13, Prof. DRM, PhotoIns, iTransfer, Music Recorder, Tunes Cleaner, UHD Driver Tool, and CleverGet Video Downloader. For one-stop multimedia solutions, this bundle not only allows users to convert Blu-ray to DVD, create/rip/copy 4K UHD Blu-ray/Blu-ray/DVD, and remove DRM on Spotify/Amazon files, but also supports editing photos, transferring iOS data, recording music/audio, cleaning iTunes music library, downloading online videos, and other features. This versatile bundle for a 1-year version is available for $173.89 only, however, the original price is $579.68.
2023 Father's Day Limited Time Offer:
Leawo Ultimate Blu-ray Toolkit — 60% OFF Blu-ray Solutions
Leawo Ultimate Blu-ray Toolkit is a 4-in-1 Blu-ray solution package that includes Blu-ray Ripper, Blu-ray Copy, Blu-ray Creator, and Blu-ray Cinavia Removal. Customers can use this comprehensive toolkit to decrypt/rip/convert Blu-ray/DVD movies to video/audio files in various formats, burn photo/video files to Blu-ray/DVD content, copy/back up Blu-ray/DVD movies, remove the Cinavia watermark from Blu-ray, and other related functions. To celebrate this festival, Leawo offers it at $143.92 (originally priced at $369.89) with up to 60% off.
* What's more, Leawo offers Ultimate 4K/UHD Blu-ray Toolkit (which includes UHD Ripper, UHD Copy, and UHD Drive Tool) and Ultimate DVD Toolkit (which includes DVD Ripper, DVD Copy, and DVD Creator) with the same percentage off.
Except for the freebie and promotions introduced above, Leawo is rolling out this activity for more programs. Customers can reduce cost on PhotoIns, every single module of CleverGet, Prof. Media DVD Media Pack (VCU), 2-in-i Blu-ray Toolkit (that includes Blu-ray Copy and Blu-ray Ripper), and 2-in-1 4K/UHD Blu-ray Toolkit (that includes UHD Ripper and UHD Copy) with the same 50% off. Meanwhile, lots of modules are on special pricing at a 40% discount like DVD to Blu-ray Converter, Blu-ray Ripper, UHD Creator, etc. Last but not least, there are 30% sitewide coupons at the bottom of the activity page available for any purchase on Leawo.org.
About Leawo Software
Leawo Software is a multimedia software developer dedicated to providing practical and useful software products and services to worldwide media fans. Its products include DVD Copy, Blu-ray Creator, UHD Creator, Music Recorder, Video Converter, PhotoIns, iOSFix, Tunes Cleaner, Data Recovery, Transfer, and others for both Win and Mac platforms.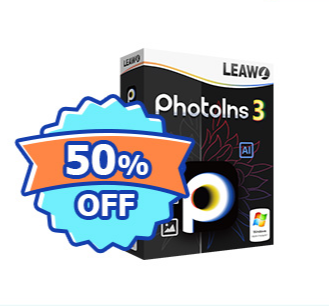 Media Contact
Leawo Software Co., Ltd.
NO.1183, Yungu Innovation Park, Nanshan Dist.