Leawo cues back-to-school season with Screen Recorder freebie, up to 91% off Video Downloader package, and more best sellers until September 15th, 2023.
(WorldFrontNews Editorial):- Shenzhen, Guangdong Aug 16, 2023 (Issuewire.com) – August begins with the holiday for students and related educators. While time flies, there is not much left for vocation. Some people would take action to prepare for the upcoming semester like learning via multiple platforms and videos. Correspondingly, Leawo launches the 2023 Back to School Sales in time. Participants can take exclusive gifts and beneficial offers like 91% off CleverGet All-In-One 11, 70% off Leawo All-in-1 Bundle, and other Blu-ray/DVD/UHD/photo-related tools with up to 60% discounts. The main info of best sellers is introduced below, and more details can be viewed on their official site.
Back-to-School Cost Saving: Get Freebie to Record Important Meetings/Classes
More on World Front News Stories:
How to save costs on back-to-school promotion? The first thing to do is take the freebie. Leawo Screen Recorder is offered as a bonus in this activity. It is not only a screen recorder, but also an audio recorder and a webcam recorder. This small-size tool can be used to record all activities on the computer screen as an HD screencast, the sound from the system or microphone, and the video from a personal webcam. The recording area and time are supported to be set, which functions are helpful for various occasions like making a tutorial video, recording an online class or meeting, and recording a PowerPoint presentation, etc. Participants can take this gift on the activity page, and this giveaway license can be activated within 5 days.
Back-to-School Preparation: Download Online Videos to Preview/Review Lessons
Another best seller for cost saving on back-to-school season is CleverGet All-In-One 11 with a 91% discount. It is an online video downloader toolkit including 28 modules, which allows users to download videos and live stream videos quickly from 1000+ streaming sites, like YouTube, TikTok, Disney+, Netflix, and Twitch.tv, Disney+, etc. With an inherent browser, users can spare no effort to get M3U8 links for downloading available videos at up to 8K resolution. Whether lessons or shows, this toolkit is available for people who want to download videos including study and entertainment conveniently online. Participants can get its lifetime plan at $219.95 only, saving $2318.65 from the usual price of $2538.60. Of course, several modules are available with a 50% discount for people that has demands on some streaming services.
Comprehensive Multimedia Bundles for Back-to-School Season: 
The most comprehensive choice for back-to-school season is Leawo All-in-1 Bundle. It is a 29-in-1 package including Prof. Media 13, Prof. DRM, PhotoIns, iTransfer, Music Recorder, Tunes Cleaner, UHD Driver Tool, and CleverGet Video Downloader. Covering all 4K Blu-ray/Blu-ray/DVD/video/photo/audio solution tools, it not only allows users to convert Blu-ray to DVD, create/rip/copy 4K UHD Blu-ray/Blu-ray/DVD, remove DRM on Spotify/Amazon files, but also supports editing photos, transferring iOS data, recording music/audio, cleaning iTunes music library, downloading online videos, and more functions. Now, a 1-year plan of the Leawo All-in-1 Bundle is offered for $173.89, instead of the usual price of $579.68.
Other Tools on Promotion for Back-to-School Season:
60% off Ultimate Blu-ray Toolkit is comprised of Blu-ray Ripper, Blu-ray Copy, Blu-ray Creator, and Blu-ray Cinavia Removal. It is used to decrypt/rip/convert Blu-ray/DVD movies to video/audio files in various formats, burn photo/video files to Blu-ray/DVD content, copy/back up Blu-ray/DVD movies, and remove the Cinavia watermark from Blu-ray, etc. This toolkit lifetime plan prices at $143.92 on this back-to-school activity (originally priced at $369.89).
Meantime, there is the same discount for the Ultimate 4K/UHD Blu-ray Toolkit, which includes UHD Ripper, UHD Copy, and UHD Drive Tool. It is used to downgrade 4K/UHD BLu-ray drive firmware, decrypt/rip/convert 4K Blu-ray to 4K/1080P/720P videos, copy/back up 4K Blu-ray movies to computer or blank disc in 1:1 or movie-only backup mode. This toolkit is offered at $123.94 rather than the original cost of $309.85.
Last but not least one is a 3-in-1 photo solution package with a 50% discount — PhotoIns, including AI Photo Enhancer, Photo BG Remover, and Photo Enlarger. This powerful tool can help users automatically enhance photo quality in a batch by optimizing brightness/contrast/saturation or removing/changing photo background and enlarging photos by up to 40X. Whether fix exposure/compression issues and remove haziness, or create beautiful sky and beautify portrait photos, PhotoIns will process these with advanced AI technology and output files with lossless quality. On this back-to-school promotion, customers can reduce half cost at $54.97 to get a lifetime version originally marked at $109.95.
Plus, Leawo offers many modules with different discounts for choice in order to meet participants' needs. The 30% sitewide coupon is valid for any purchase on this back-to-school promotion, which is provided at the bottom of the activity page.
About Leawo Software
Leawo Software is a multimedia software developer dedicated to providing practical and useful software products and services to worldwide media fans. Its products include DVD Copy, Blu-ray Creator, UHD Creator, Music Recorder, Video Converter, PhotoIns, iOSFix, Tunes Cleaner, Data Recovery, Transfer, and others for both Win and Mac platforms.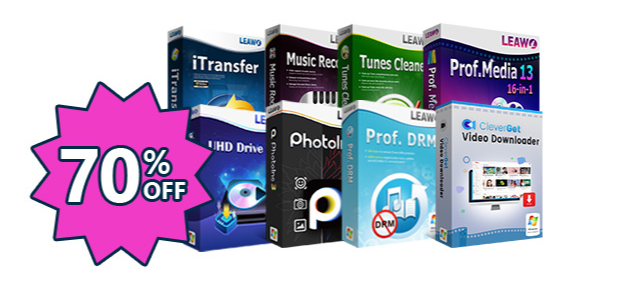 Media Contact
Leawo Software Co., Ltd.
NO.1183, Yungu Innovation Park, Nanshan Dist.