Time To Spread Some Love !
(WorldFrontNews Editorial):- New York City, New York Jan 29, 2021 (Issuewire.com) – The most magical & romantic day of the year is ahead and it's time to spread the message of love. Letting your loved ones feel special has been the primary focus of Valentine's Day. This long tradition of expressing love is never complete without the presence of roses. Cherish this memorable day for many years to come with exclusively preserved roses.
Eternal Roses® is the pioneer in the field of preserving roses and creating well-crafted gift options with them. All the preserved roses gifts and flower decorations can last up to 3 years and more if the instructions are maintained. The longevity of these roses makes them a preferred gifting option nowadays. 
More on World Front News Stories:
Eternal Roses® is well known for its creative approach and refreshing floral arrangements in line with the mood and occasion. The company goes to great lengths to keep the collection fresh, exclusive, and unique. So, this year also was not an exception and Eternal Roses® launched hosts of handcrafted Valentine's Day Gifting Collection.
Their fresh collection of luxury preserved roses' bouquets, gift baskets, and patented centerpiece designs will be the perfect gifting options to enliven the special Day.
Recently, the co-founder Mrs. Monica Horn was asked by an interviewer about what makes these roses so special? She answered, "the secret recipe of all our products is that we keep a keen eye on picking up the right kind of roses. They then undergo a strict preservation process. Eventually, each product is handcrafted to bring out the creativity & designer elements in the form of gifts and rose arrangements." 
Since last year the company is witnessing a surge of doorstep delivery to an unprecedented level. So much so that they had to upgrade the entire supply chain to cater to the high demand. Moreover, the preserved roses being handcrafted the production had to be ramped up drastically. So, it's always better to book these rare gifts early.
Today Eternal Roses® collections are delivered across the globe and have become a preferred gifting choice for many. The wide selection, thoughtful arrangements have made their niche in the hearts and minds of their patrons. However, there are certain products like the Long Stem Rose Bouquet & Estella Gift Box that is only available for local pickups. If you haven't tried preserved roses yet, we suggest you do it today and you won't regret the decision. 
 
About Eternal Roses®
Eternal Roses® has become quite popular in a short span due to its creativity & spectacular designs. The company is globally recognized for its patented centerpieces and other preserved roses gifts.
Established in 2017, Eternal Roses® is a function-first company. Founded and run by US veteran Mr. Lance Horn & his wife Mrs. Monica Horn, Eternal Roses stands strong on creative innovation & value-added services. Since the beginning, the Horns family has focused on making best-in-class preserved rose products by using the highest quality materials and craftsmanship to deliver a product that will be admired by all.
The entrepreneurial vision was aimed at making Eternal Roses® a gift and décor brand that is more enduring than what traditional florists can offer, while still providing the freshness of natural roses. The team searched for premium roses all over the world for several years before sourcing and developing the initial collection for Eternal Roses®. Finally found them in the highlands of Ecuador, where fertile soil conditions and micro-climates are ideal for growing over 400 varieties. 
Explore the widest spectrum of our Eternal Roses and how they are turned into some masterpieces in various arrangements and collectible pieces.  
Reach Us at: 
2200 Bellmore Avenue, 
North Bellmore, New York – 11710
www.eternalroses.com
email – [email protected] or give us a call at (888) 440-2255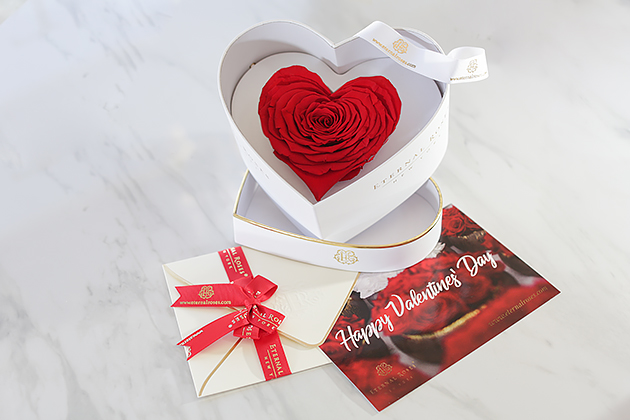 Media Contact
Eternal Roses® | Premium Preserved Roses & Handmade Jewelry | New York
8884402255
2200 Bellmore Ave, North Bellmore
Eternal Roses® | Premium Preserved Roses & Handmade Jewelry | New York